Blackwater Charters
With Capt. Scott Hughes
Call 941-628-4247 to book a fishing charter
Captain's Profile Tarpon Fishing! Snook Fishing Tournament Trails and Standings FAQ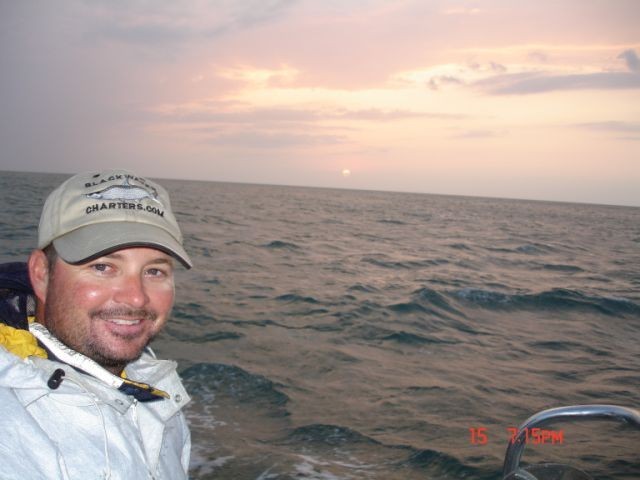 Afternoon tarpon fishing in the Gulf of Mexico
Hi! I'm Capt. Scott Hughes. I am a 3rd generation native Floridian. I was born in Ft. Myers, Florida and operate my business out of the Ft. Myers/Punta Gorda/Boca Grande area. I still fish Marco Island during certain times of the year but its not as common as it was a decade ago. I hold a B.S. of Health and Science from Troy State University. Many of my customers are very experienced anglers and book me to catch trophy sized fish. However, I have vast experience with novice anglers and children and will take time to teach them the techniques that make fishing more successful and exciting. The tips you will learn will enable you to have more fishing success for years to come. My favorite type of fishing is for large tarpon and I specialize in tarpon fishing from late March until the middle of October. The winter months are devoted to other light tackle fish species. We have great fishing for snook, king mackerel, spanish mackerel, shark, jack crevelle, redfish, speckled trout, cobia and and other species all year.
Live bait is mostly used during the first half of tarpon season but the second half I use a variety of live bait, dead bait and artificial lures. Live sardines and herring are the most common natural baits, but live and dead mullet, crabs and ladyfish are sometimes used. During the winter months I use mostly soft plastic artificial lures and live shrimp to catch redfish, speckled trout and flounder. I'm also well versed in saltwater fly fishing. 10-12 weight rods are needed for tarpon fishing and 8-9 weight gear is best for flats fishing. I grew up on Lake Okeechobee and I will occasionally run some guided bass fishing trips on the lake and still run some airboat trips into the Everglades for some of the best bass fishing in the country when the conditions are right in winter and early spring. I'll also guide duck hunting trips on Lake Okeechobee on years when the hunting is good and the fishing is slow. I supply all the bait, tackle ( including flyrods and flies), and licenses for up to 4 anglers. I work very hard on a daily basis to make each fishing trip fun and exciting.
Here in Southwest Florida you can enjoy some of the finest light tackle fishing and duck hunting Florida has to offer. And what makes it great is that something is pretty good all year round. You will be amazed at the natural beauty of the area and learn about the rich history of Southwest Florida. The ecosystem of the saltwater environment is complex and fascinating. It is not uncommon to see endangered and threatened species like, manatees, sea turtles, storks, and bald eagles, as well as, common species like bottle nosed dolphin, ospreys and roseate spoonbills.
To Book a Trip call : (941)628-4247
E-mail at : blackwatercharters21@gmail.com