Blackwater Charters
With Capt. Scott Hughes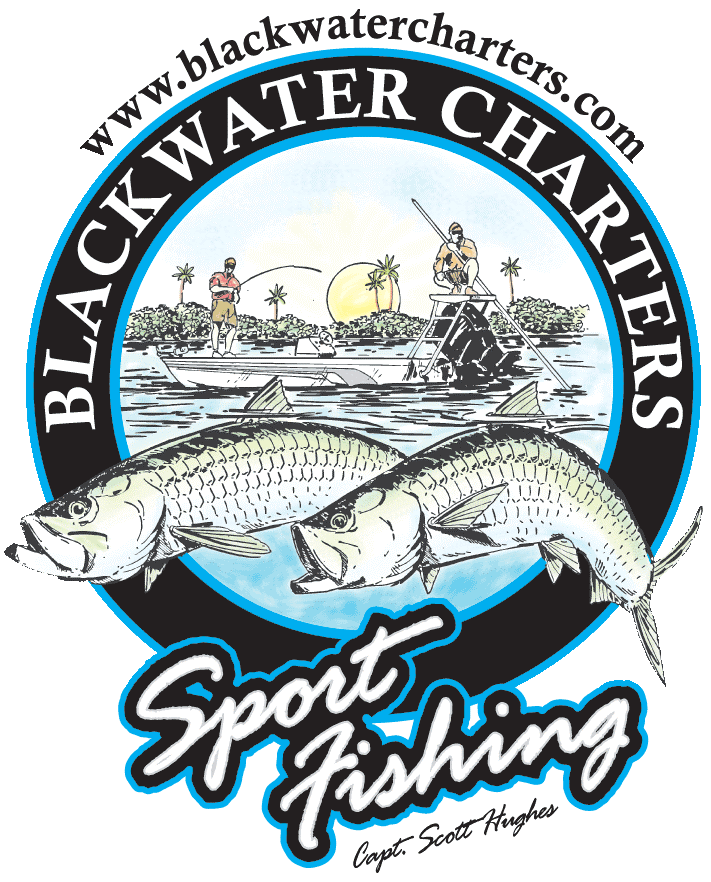 Home Captain's Profile Tarpon Fishing! Snook Fishing Tournament Trails and Standings FAQ
If you have never done any tarpon fishing, then this page will give you an idea of what tarpon fishing is all about. You can now also view some of my tarpon fishing charters on video. Check out the Home Page to see the tarpon fishing videos. But until you've fished for tarpon in Southwest Florida yourself you won't appreciate what is involved in catching a fish as special as a tarpon.
Fish On! The " first stage" of a tarpon battle is a series of magnificent jumps and powerful runs up to 100 yards or more. The first runs of a tarpon are so fast and powerful that you must monitor the line level on the reel. It's not unheard of for anglers to get "spooled" if they are not prepared to give chase to a hot tarpon.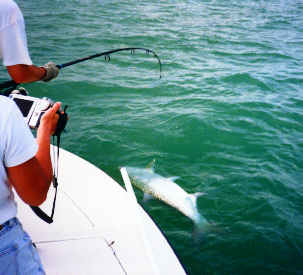 45 Minutes Later " Stage two" is a brute struggle between man and beast. There aren't many jumps and its just your will against his. I've seen this stage last as long as two hours but with the correct techniques and tackle 20-30 minutes is enough to break an average sized tarpon's will.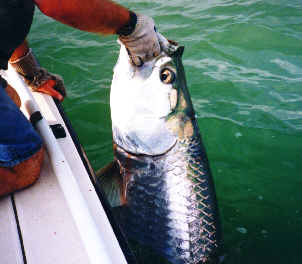 Official Catch! The " third stage" is a very difficult time for the tarpon and angler. The knots and line has been worn from the long battle and your arms feel like Jell-O. The tarpon will usually make a couple of last effort jumps and a run or two under the boat before he rolls over and submits.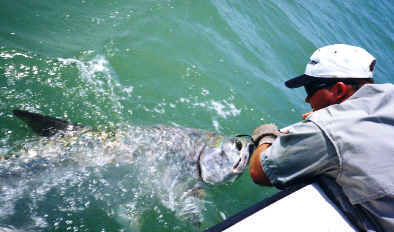 Fully Revived and Ready For Release! I always make sure that a tarpon is in good shape before I release it. While reviving a tarpon at the side of the charter boat, it's a good time to get some quality photo's of the full length of a large tarpon!
* I never use a gaff on a tarpon or bring a tarpon over 20 pounds into the boat. This was common practice when I started guiding for tarpon in 1997. I no longer do this for the purpose of take pictures of tarpon. I have used a gaff when competing in the Professional Tarpon Tournament Series. When fishing in a tarpon tournament we are required to purchase and attach a "kill tag" in the tarpon's mouth in order to put a gaff through the lip of a tarpon even if we are releasing it because there is a high probability that the tarpon won't survive after being weighed. I have since retired from tournament fishing and haven't fished a tarpon tournament since I won the PTTS Championship in 2006. A photo along side of the boat or a photo out of the boat while holding a tarpon in the water is the best way to get a good photo and it's better for the survival of the tarpon as well.
_____________________________________________________________________________
*Assorted Tarpon Fishing photo's*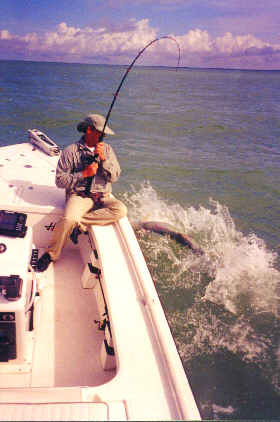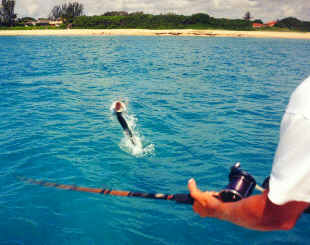 Uh Oh! This tarpon fishing battle is not over yet! Good form! Always bow to the a tarpon when it is in the air.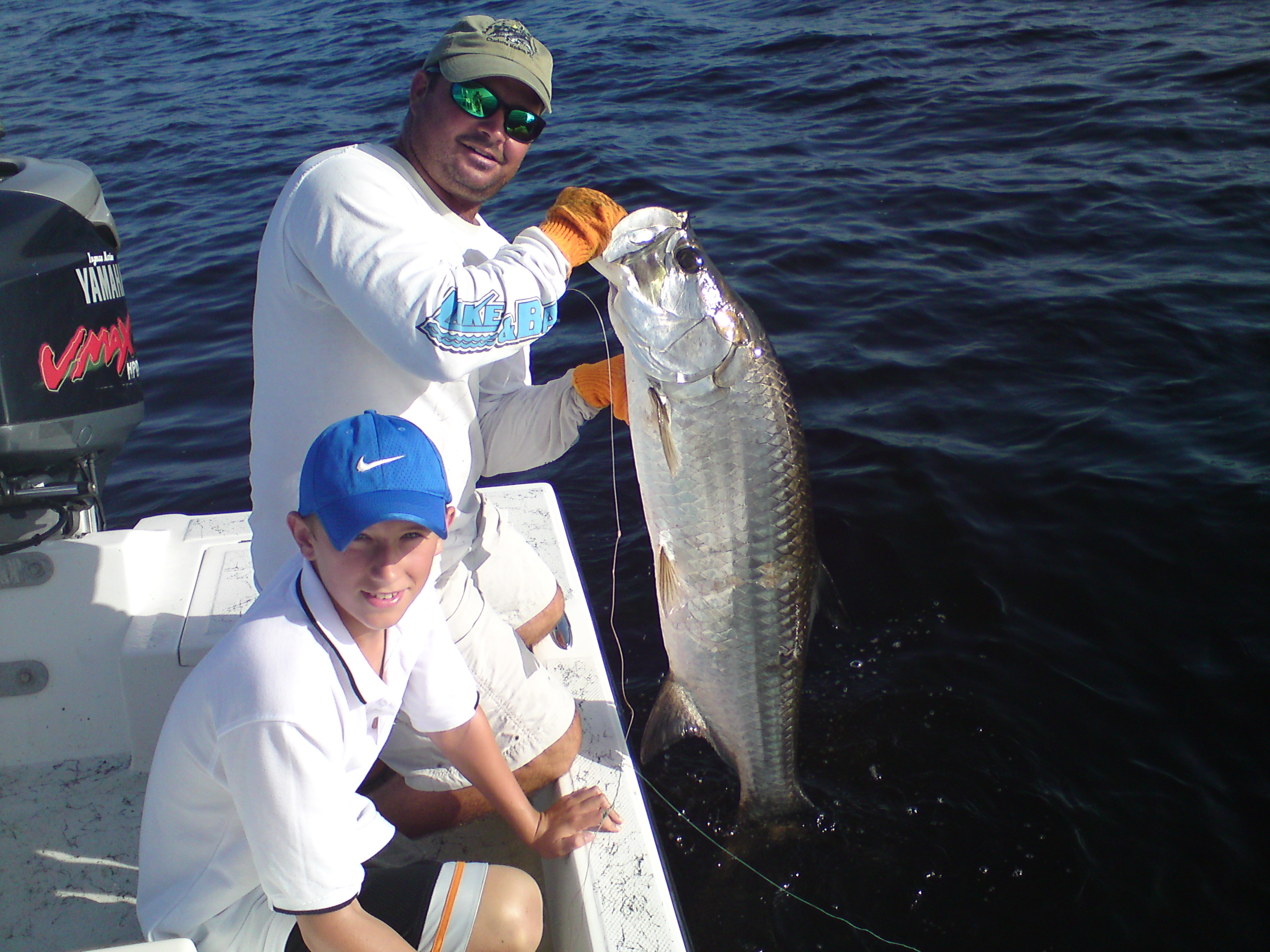 "Blackwater" Tarpon from Charlotte Harbor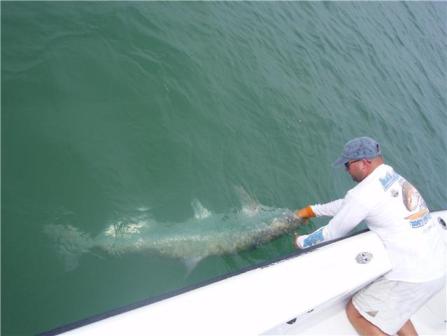 Reviving a tarpon at boat side.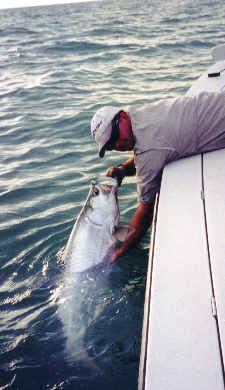 That's me releasing a smaller 40 pound class tarpon off the southwest coast of Marco Island, Florida.
Who's Next!
Call 941-575-2389 to Book a Tarpon FishingTrip!
E-mail : cptscott_69@hotmail.com

Captain's Profile What we Catch! Testimonials Equipment and sponsors FAQ

Photo Album's What we Catch! Tournament Trails and Standings Tarpon Fishing!

Snook Fishing Tarpon Fishing Charter Pictures Photo Album's

New! fishing charter photo album Equipment and tackle for sale Home